Get your site found on the web: optimizing page META tags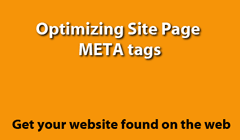 A website's pages provide browsers and search engines with valuable information about your site, and what it contains. This information is contained within the hidden code of the pages you'll add when you create a website, and it's important to pay particular attention it to improve the visibility of your site on the web.
Adjusting this kind of information is part of search engine optimization (SEO) for a website, which simply means improving search results by thinking about and changing the way a website presents information to search engines. If it's done correctly, optimizing a website for search engines also means making it a better site for your visitors. Site optimization involves careful placement of key words in page text, adding or fine-tuning relevant site META tags, and providing appropriate on-page links between the various parts of your site content, and between your site and other - related - external websites.
Amongst the free website builder tools in your manager are a few that will help you with your site SEO work, and it's important to put them to good use.
The Marketing > Site info. menu
This is where you'll edit primary site information, like it's title, key words and description. Each type of information is automatically added to the relevant tags of your site's HTML code. You can also define a site-wide page title format, to ensure your page titles are presented in a consistent way throughout your site. The page, product, and blog editors each have their own options for optimizing specific site pages for search engines. Use them to personalize individual page titles and descriptions, or to add thumbnail images for display next to your site's backlinks on social networking platforms like Facebook.
Optimizing a website for search engines (and the people who use them!) means ensuring your page titles contain meaningful information about your site and its content. See the following article for more information on getting your site titles right and on how to optimize site titles for search engines.
Home page title
By default, your site's landing page (the home page) has the same title as your website. If you want to choose a different title for the home page, just enter it here. If you leave the Home page title field blank, your home page title will be the same as the site title.
A Bath BnB website might benefit from a hom page title like: "Bath Bed and Breakfast – join us for an intimate, relaxing break".

Title format for site pages
When you add or edit a page with the page editor, you'll see two "title" fields at the top. These two titles are displayed directly on your website: menus and other site navigation elements create link text using the Short page title format, and the Page title appears at the top of the page's content. Web browsers and search engines use a third title format: the title tag. Web browsers display a page's title tag information at the top of the browser window. Search engines also use title tags, to generate the link text on search results pages.
Title tag information is generated automatically for every page you add from the Pages menu. By default, your site's page title tags are identical to the Page title you add from the page editor. To personalize the way page title tags are created, adjust their title tag format from the Marketing > Site info. menu. You can automatically generate page title tags that combine site and page titles, by using variables like [page_title] and [website_title]. You can also add your own text to the title tag format.
The Bath Bed and Breakfast website team has created a personalized title tag format: "Bath BnB: your home away from home - [page_title]". The title tag for every page they create will use this template. Each page title tag will combine a commun, site-wide text ("Bath BnB: your home away from home - ") with the title of that page.
For example, their accommodation pricing page has a page title "Room rates" (added from the top of the page editor). When it's displayed in a browser, the browser window title will read "Bath BnB: your home away from home – Room rates". This will also be the link text to that page displayed in search engine results.
The Page editor
You can personalize the SEO options for any of the pages you add or edit from the Pages menu, by editing their title tag information or META description in the page editor. To personalize SEO options for a page, just open it with the page editor, then scroll down to the SEO section to access the following options:
• Title : Vital for optimizing a page for search engines, the page title requires thought and should convey relevant site and page information relevant. If possible, it should include a couple of your site's most relevant key words. A title is limited to 65 characters, so take your time when writing it. If you define a page title tag from the page editor SEO options, it will replace the title tag format you define from the Marketing > Site info. menu, but only for that page. Try to avoid using generic terms like "Example", "Photos" or "Page 1" as title tags, as they won't provide potential visitors with any information about your page content when browsing through search engine results pages.
• Description : It's important to give each page of your website a well-worded, succinct META description, as this information usually appears under the link text in search engine results. A well-written META description can mean the difference between attracting a visitor and losing one, so take your time and think about how best to summarize your page content in the description field.

We'll round out our look at getting your site found on the web next time. In the meantime, whether you're a beginner webmaster who's only just begun to make a website, or are an experienced web developer, remember that there's always work to be done on optimizing your site for your visitors, and for improving it's visibility on the web. So until next time, have fun making your website.