Test your site keyword ranking on search engines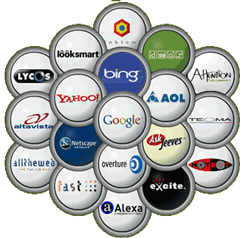 Starting out with a new website can be a lot of fun. Getting hands-on with tools to make a website is a little like finger-painting: your hands get dirty (ok, not really), and you get instant results with fairly minimal effort (plus it can be a whole lot of fun). Though you can create a website to share photos online or publish a personal blog for close friends and family, a lot of beginner webmasters are looking for a way to start their own online business, or to communicate with a wider audience. And for that to happen, you'll want to get your site found in search engines with appropriate keywords.
Keeping tabs on your site's key word ranking on search engine results pages will give you an insight into its potential for attracting visitors, and you've probably already using external tools like Google Analytics to follow your search engine traffic. Using a rank checking tool complements Analytics, by helping you find out just how easy it is for visitors to find your site on search engines.
Here are a few free key word ranking tools you can use to do just that.
Online tools
For a quick overview of your site's ranking for a given search term, sometimes it's best to use a simple, straightforward web-based rank checker. Plug in a keyword and your search term, and quicker than you can say "what is my site's search engine ranking", you've got the answer right before your eyes.

Pros
Easy to use

Quick results display

Search on whole domain (all of your site's pages), not just one page
Cons
Limited to Google's US database

Only displays result appearing in the top 100

Can only search for one term at a time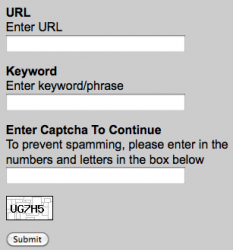 Pros
Multiple search engines: Google, Yahoo and Bing(MSN)

Super-quick searching

Searches across whole domain
Cons
US-only search engines

Rank checking limited to first 100 results

Single-term searches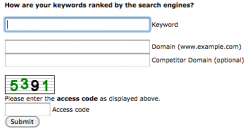 Pros
Searches across 3 main search engines (Yahoo, Google and Bing)

Allows 2 domains to be compared simultaneously (great for checking out the competition)

Provides full rank listing for the top 40(ish) results
Cons
Only US market

One keyword per search
Offline tools
If you need more than a quick check, using a more complex rank-tracking tool is a must. They give a much broader vision of your site's progress across multiple search engines and terms, and enable you to export reports to keep track of your site's progress over time.
Rank Tracker Java application, with versions for Windows, Mac and Linux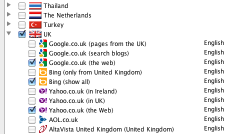 Pros
Features, features and more features!

Multiple search engines (too many to name, including the big 3 and country-specific ones like Baidu)

Multiple keyword searches

Multi-language interface (English, French, German, Russian, Dutch, Japanese)

Reports group searches geographically, exportable in various formats

Configurable search result limit (up to first 1000 results checked)

Scheduler for automatic daily searching
Cons
So feature-packed, it's a little easy to get lost (mastering the essentials takes a couple of minutes of concentration)

So feature-packed, it's not exactly free (to save searches, you'll need to get a – fairly hefty – subscription, though you can export each search report created)
Rank Checker Firefox plugin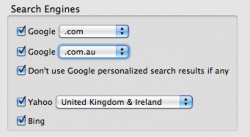 Pros
Easy install, Firefox integration and regularly updated

Stores searches, allowing for exporting of search history (CSV file)

Multiple search terms

Multiple search engines (region-specific versions of Google and Yahoo)

Scheduling function

Create different search groups (similar to Rank Tracker's "Projects" feature)
Cons
Limited to US-version of Bing

Limited to one regional Yahoo engine, and two Google engines
There are a lot of different tools around, and choosing the one that suits your purpose best depends on what you're looking for. For occasional, quick performance tests for a given search term, free online tools can't be beat: they're simple to use, and give a rapid result.
If you're serious about tracking your site's keyword rank progress over time, tools like Rank Checker and Rank Tracker are ideal. Deciding which one to choose depends partly on how serious you are about getting detailed information, and partly on how much time you have on your hands. Rank Checker neatly balances ease-of-use with detailed results, and is free. But if your site audience extends beyond your home market, Rank Tracker wins hands down: it covers 104 markets (and counting), over multiple search engines, and searches can be fine-tuned to target region/language-only results. Both Rank Tracker and Rank Checker provide free exportable reports, though Tracker's configurable report builder enables you to select what to output, in addition to a choice of export formats. Beware though – the inability to save search projects with Rank Tracker's free version means having to select search engines and enter keywords every time you use it, or pony up for the full version license (Rank Checker saves search projects for free).
Whatever tool you choose to track your progress in search engine results, don't forget that getting listed in a search engine doesn't mean you'll appear in number one position for your chosen key words the next day. Working on improving your search engine results takes time and effort. Try to be patient, and focus your time on making sure your site visitors find useful and original content once they arrive on your site (and not on tracking your search engine results). After all, that's the real key to building a successful website.