Add a booking calendar to your website
Add a booking calendar to your website
The Booking add-on is designed to make life easier for people like you who need to make a BnB website with built-in online booking features. Whether your clients need to book vacation rentals, bike rentals or schedule appointments on your website, the Booking add-on is designed to help you get things up and running in no time.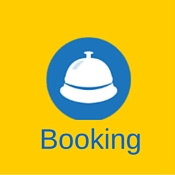 About the Booking add-on
The Booking add-on is free, enabling you to publish a single kind of rental, and add options to it. If you need to publish different kinds of rentals, with their own rates, the BookingPRO subscription is what you'll need. To enable the Booking add-on for your website, head to the Add-ons > Manage add-ons menu of the site manager, move your cursor over the Booking add-on and click the Enable link. Once enabled, head to Add-ons > Booking to get started.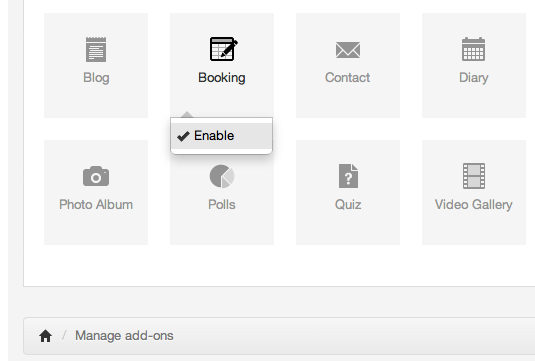 Managing and setting up the Booking add-on
The layout of the Booking add-on in the site manager is similar to the other content add-ons, with 3 main tabs to access its different features:
Rentals: The Rental tab is where you'll create and edit rentals: the things your clients will book. Rentals can be physical objects (like a room, apartment or bike) or timeslots (for booking appointments).
Bookings: When clients book a rental, it will create a booking record in your site manager, providing you with details about who made the rental, the dates or times they rented, and any extras or comments. BookingPRO subscribers will also have details about any payments made during the booking process by a client. Access bookings from the Bookings tab: bookings are listed in date order either as a detailed list of bookings in descending date order or on a calendar with weekly and monthly views.
Settings: The settings and options that apply to all bookings are configured from the Settings tab. Configure the kind of currency used for bookings and whether in-full or deposit-only payments should be requested during the booking process. BookingPRO subscribers will also set up payment options from this tab, under Payment types.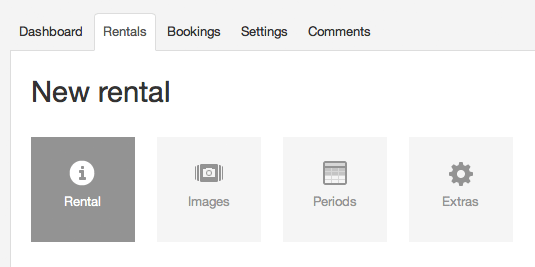 Displaying rentals and availability on your website
The rentals you create in your site manager are published on your website, with a pre-set layout designed to make it easy for your visitors to find the information they need about each rental.
The page for each rental also displays an availability calendar with rates and occupancy information clearly indicated. Available dates and times are marked in green; dates with unconfirmed bookings are displayed in orange, and unavailable dates marked in red.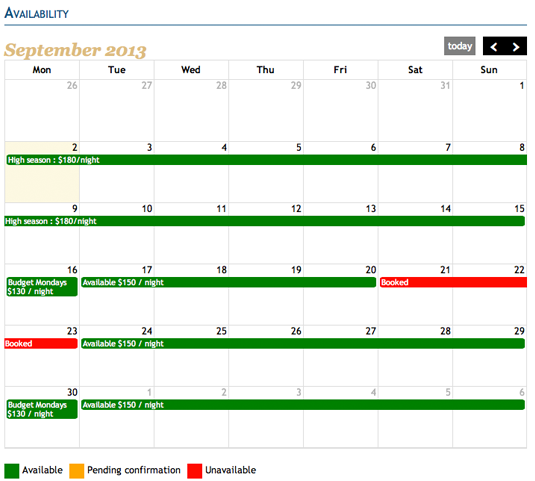 Create a rental
To create a rental, head to Add-ons > Booking > Rentals, and click New rental to open the rental editor, and begin creating a rental.
The rental editor, used to create or change an existing rental is split into four sections, each one used to provide specific information about the rental:
Rental: the Rental section of the editor is where you'll enter all the basic details about the thing you're renting, like a title, description, and price. You'll use this section to set up how the availability should be determined (nightly, weekly, or time-slot bookings), and other basic information like minimum booking durations and maximum occupancy.
Images: each rental will be illustrated on the site with the image defined in its editor. Add or replace the image for each rental from the Images section. The free version of the Booking add-on allows you to define one image for the rental; Booking PRO websites enable you to add as many different images for each rental as you'd like.
Periods: by default, the price defined in the Rental section of the editor will be used to calculate the cost of each rental, according to the duration of each booking. To define seasonal or daily pricing variations- set them up under the Periods section. Each pricing variation can be defined as a percentage or fixed price adjustment of the basic price, and be added to or subtracted from it, be defining the adjustment as a positive (add) or negative (subtract) variation. You'll also define any booking blackout dated or periods here – use them to close out bookings while on holidays, or during renovations for example.
Extras: if you need to add additional items for each booking, like a cleaning fee, laundry rental or other additional items, set them up under the Extras section. Each extra can be optional or mandatory for clients making bookings, and have a set price for the entire booking period (for example, a one-time cleaning fee), or a price that varies for the duration of the stay (like a per-day cleaning or laundry rental fee).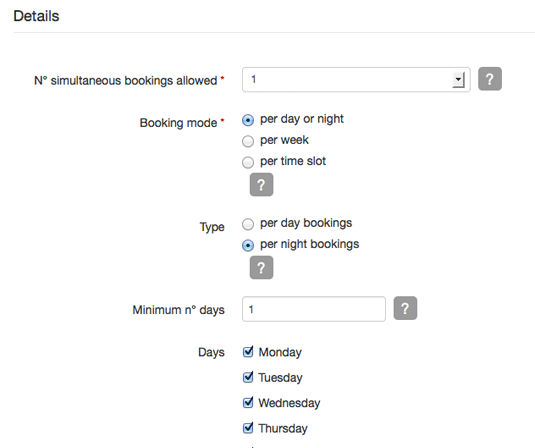 Payment set-up
Built-in payment handling features are available for Booking PRO webmasters, and enable you to manage the whole booking process from start to finish.
Enable one or more payment types from the Settings > Payment types menu: choose from checks, wire (bank) transfers, and PayPal, for credit-card payments.
To define the way payments should be handled for bookings, head to the Settings > Preferences menu of the Booking add-on. You can enable payments in full, or deposit-only payments. If you choose to offer deposit payments, you'll also define the deposit value as a percentage of the total booking price, from the same menu.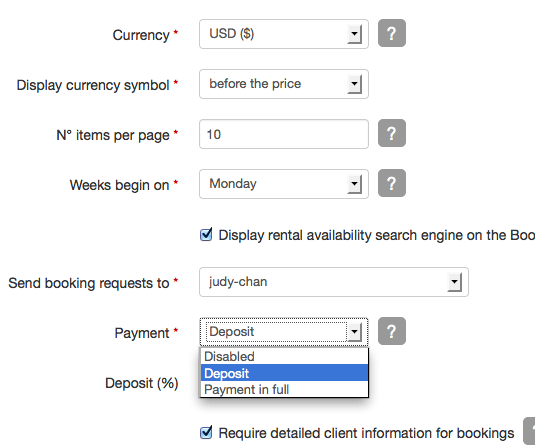 Creating and managing bookings
Bookings can be created either by your clients directly on your website, or you can create them from the site manager (perfect for adding bookings made over the phone for example).
To create a new booking, head to the Bookings menu of the Booking add-on. Once a booking has been made, it will be listed under the Bookings menu, in date order, and displayed on a booking calendar.
Switch between the Search and Calendar views as you need, to find and manage bookings.
To manage a booking, click the Details button in the list of bookings, to the right of the booking, or click the booking directly on the booking calendar.
The details of each booking enable you to quickly view the information for the booking, including the renter and their detail. From the details page you can:
use the quick-edit buttons to receipt payment or to confirm a booking
edit the details of the booking to adjust information, like prices and dates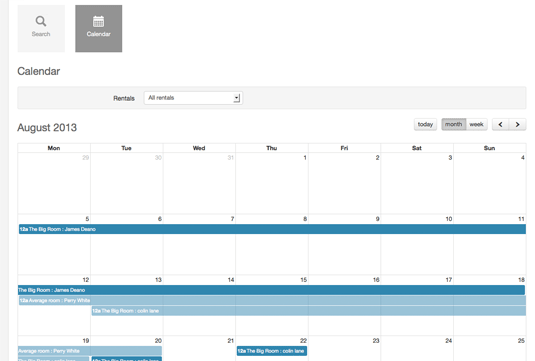 Good to know
The Booking add-on is free to publish a single rental on your site – as each rental can be set up for multiple simultaneous bookings, if you have several rentals with identical pricing and details, you can use the one rental to handle all your bookings, for all your rentals.
A BookingPRO subscription enables you to publish as many rentals as you'd like, each with their own pricing, details, availability, seasonal pricing and blackout dates. BookingPRO also enables you to provide online, commission-free payment handling for bookings.