How can I transfer an existing domain name to emyspot ?

How can I transfer an existing domain name to emyspot ?
If you have a domain name already from elsewhere, you can easily transfer your existing domain name to your emyspot account. In doing so, you manage your domain name and no longer have to organise two different locations.
This allows you to easily associate your domain name with all the easy to use tools an inherent SEO at emyspot without having to stress about all of your techniques.
1. Make sure that you can transfer your domain
In order to transfer the domain you will need to verify the following things :
The domain you want to transfer must have existed for over 60 days (it is possible that you can link your site before the expiration , to do this you will need to contact us together Help > Online support

from the site manager

).
The domain name is not expired nor about to expire (a minimum of 2 to 3 weeks before expiration).
The owners e-mail is valid (you will need this to service provider the address).
Lift all blocks on your website against transfer (you will need to verify your domain is unlocked with the owning service provider).
By respecting these condition your domain name is ready to transfer.
If your domain name service provider is OVH.com, the following procedure does not apply - contact the emyspot support team from your sites manager at Help > Online Support to ease the transfer process.
2. Let your service provider know that you are making the transfer
You must start by informing your service provider that you want to transfer your domain name. They will give you a transfer code that will be necessary in the finalisation process on emyspot. This code can be referred to as the transfer code, authinfo, EPP Key, etc. depending on the service provider.
To receive this code your service provider typically has a service dedicated to the transfer process where you can get the code yourself. If you cannot find this information you will need to contact the support service of your provider.
The code you receive is extremely important, you will need to save it.
3. Go to your emyspot manager and start the transfer
You will need to have the subscription DomainNamePro. From the manager, click on Subscriptions > DomainName Pro. In the offer list click on the button Order.
A window will pop-up in the manager that will invite you to choose your domain name without the extension, as in .com, uk, or .fr.
You will then click on the button to Check availability.
emyspot.com questions the public database for the domain name. Whois is a large database that will show who and if the domain name is registered, then click on this domain belongs to you?
4. Insert the authorization transfer code
By clicking on Is this your domain? you are directed to a form where you provide all the necessary details to finalize the transfer. Fill out the form and then hit Save.
At emyspot we will now have all the necessary information and we will take care of all the transfer from there. You will have your domain name up and running in under two days.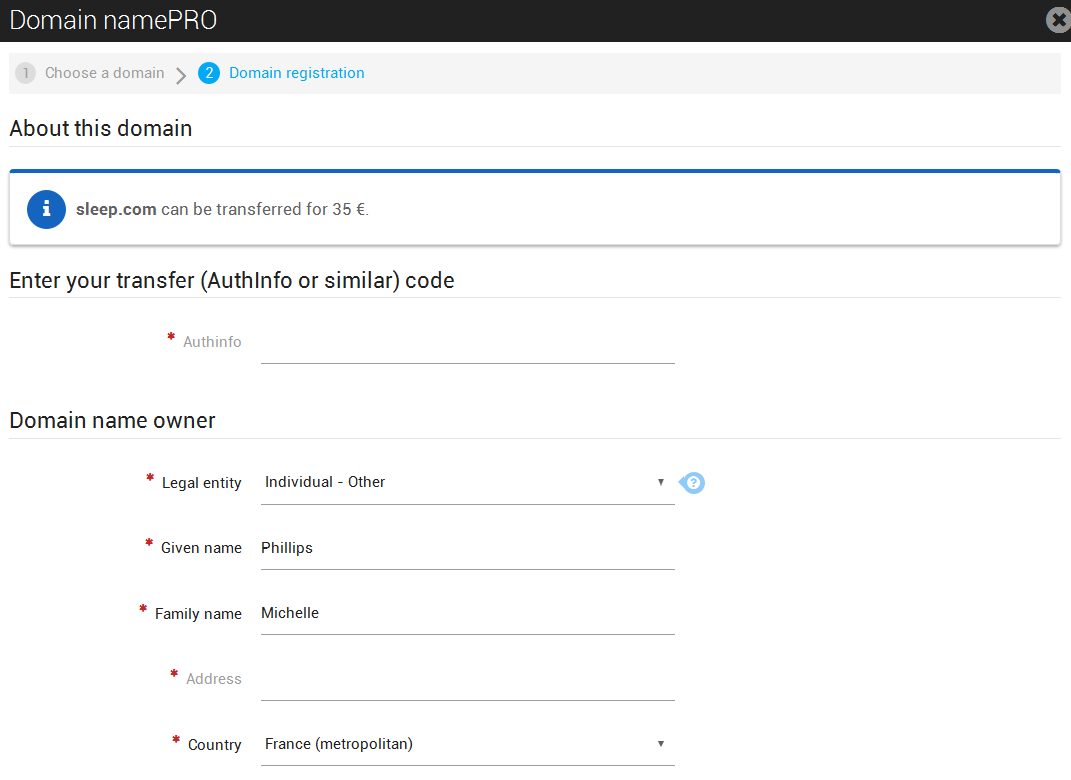 5. After the order
Depending on the domain extension, you will receive an email from your now service provider at ovh.com (our internal service used at emyspot.com) asking you to confirm the transfer of your domain name.
You will need to confirm as soon as possible, as there is a limited time that the transfer can be completed. For certain extensions, like that of .fr or .be this email is not sent. We will notify you as soon as your site is ready to function with the transferred domain name!