E-commerce is coming (to town)
By colin
On 02/12/2009
2 comments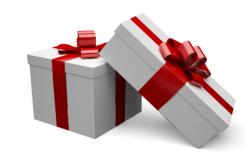 Noticed anything red, green and/or sparkly around town lately? It's that time of the year again - decorations are out in force, and so are the crowds. Folks are learning how to make a website decorated with animated snowflakes ... even I've succumbed to the spirit of the season and started menu planning for the family do (I'm doing vegetables, because I'm lazy). Ah, the holiday season: that special time of the year when family members try to let bygones be bygones, and retailers try to make their reserves for the year ahead. A little like squirrels (I saw one this morning while Dearie-spotting, and just had to mention it), but taller, and with more clothes and less fur.
In the spirit of giving, this year we're getting ready to bring you a very special gift that we know you're going to love. I mentioned it last week, and thought I might devote a little time to outlining some of the features our e-commerce add-on will soon provide to happy online store owners the world over.
Crafted painstakingly by our talented developer Nicolas, the administration interface is really taking form and will be heading off for select beta-testing in the next couple of weeks. He's not one to brag, so let me do it for him: it's shaping up to be an infinitely adaptable, feature-packed, scalable solution for businesses large and small.
One of the things I do best is to paraphrase (told you I was lazy), so here are just some of the highlights Nicolas' got in store for us:
50 different configurable settings
detailed management of manufacturers, suppliers and clients
built-in automated management of shipping, handling, billing and taxes
Like the sound of that? Well, that's just a taste of what's around the corner, and you'll love the rest.
All is on schedule for an e-commerce release in the first week of January, thanks to a lot of hard work and a whole lot of coffee - we'll keep you posted of progress and give you more details of this great new addition to the doomby family as the date gets nearer.
So stay tuned, and tell Santa that this year, your business deserves a gift too: a doomby e-store. After all, just like you, it deserves the best.