Add icons easily to your website
You might have noticed, in the emyspot's Visual Editor there has been news for some weeks. Now you can easily add icons to your text using the library proposed by FontAwesome. You will be able to boost your content and simplify the lecture of your website users.
Enable Font Awesome on your website
This library exists since 2012 and it is principally developed in CSS. The webmasters and professional web designers have been using it for years now to speed website loading replacing images for CSS icons.
A short loading time is essencial for a hight quality website. For this reason our team has implemented a new feature on the Manager that allows webmasters to use Font Awesome icons.
How to add an icon to a text?
This new feature makes things easier for the users of CMS Emyspot.
In order to use the Font Awesome icons, head to the Visual Editor, click on the icon with a smal flag

to access to the proposed options (you will find it in the last line of the Editor options).
You will get access to the entire icon's library proposed by Font Awesome. You can personalize the icon's aspect by changing the color, the size and the orientation.
To confirm your choice, hit the OK button, it will automatically be integrated into your text.
When uploading new content to your website, don't forget to use the icons to better illustrate it and draw reader's attention to a specific point in the text.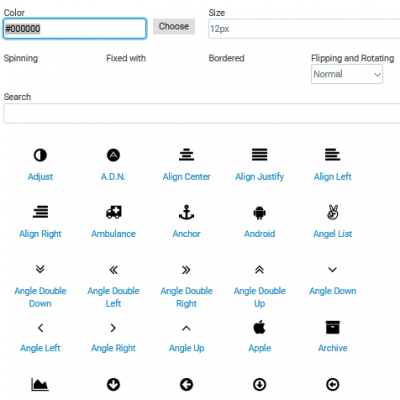 ATTENTION! This new feature only matches with the EMS Framework templates (Blogger and Smart).
Have you tried them yet? Share with us your pages and we'll see which one of you used it better!
blocks and columns pages personalize