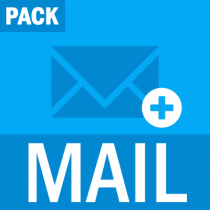 Pack Mail gives you more power to add email addresses to your domain name. Perfect for adding a professional dimension to your email and creating a strong web image and presence, you can now add 10 more emails per pack, and can purchase 9 packs in total, giving you the chance to have 100 emails per domain name.
Watch your site grow with you as your needs change, and the pack mail as you need it! Better respond to customers, have stronger support capabilities for your site users or personalize your messages. The pack mail can be added for any occasion.
What is Pack Mail?
10 additional e-mail addresses
Need to better manage your communication? Pack Mail lets you create up to ten new email addresses tied to your domain name. With a simple click of a button add your new addresses as you need.
1 GB of additional storage
Pack Mail increases the total storage space by a full GB. Each Pack Mail adds 1 GB of storage space that can be used on all of your email accounts.
Automatically managed pricing
When you go to renew your domain, the offer is automatically adjusted according to the number of e-mail accounts and storage space you use. So imagine you purchased two Pack Mails, but you're using only one option when renewing your service the second will be taken away so you don' get charged for what you do not use.
How much does it cost?
The Pack Mail is available for only 30 euros per year, with one purchase you get 10 additional email addresses and 1 GB more of inbox storage space. It is important to remember that the Pack Mail is meant to add on to the DomainName Pro, and thus the email management takes place all from the same page.