Reserve a cottage for the week
Book a cottage for the week
The booking add-on allows you to propose a rental to website visitors with an easy to use online booking system. This makes the booking add-on ideal for tourism professionals, such as cottage or BnB owners. As lodging is generally rented by week and its price varies according to periods. Most lodgings have optional extras or complementary services, such as renting sheets or cleaning packages. Let's see how to set up a weekly rental.

Scenario
The Hazelnut Cottage is located in the luscious Dordogne region, specifically Périgord Nord which is quite the tourist destination in the summer. Rented for 250 euros per week in off season, it's rent is 400 euros per week in July and August, and 350 euros per week in June and September. The rentals are from Saturday to Saturday (noon). The cottage has a large kitchen, two bedrooms and a garden. It can accommodate up to 6 people. In addition, the owners of the premises can provide bicycles as well as linen and towels (sheets + towels). Let's see how to set up the on-line reservation module. To confirm the reservation, the owner requests a deposit of 20% of the amount of the reservation (by check or transfer).
Define your booking settings
To activate the booking add-on go to Add-ons > Manage Add-ons. Choose the booking add-on and click enable. Choose the option rental property or equipment. Then click Add a rental. This will ensure that the add-on is preconfigured for rental week by week.
Fill in the information about your rental
Add a description to describe the cottage as accurately as possible. This text will appear on the site above the availability calendar.

Number° of simultaneous bookings allowed: This corresponds to the number of times the same cottage can be booked at once. So we want to define that only 1 simultaneous bookings is allowed.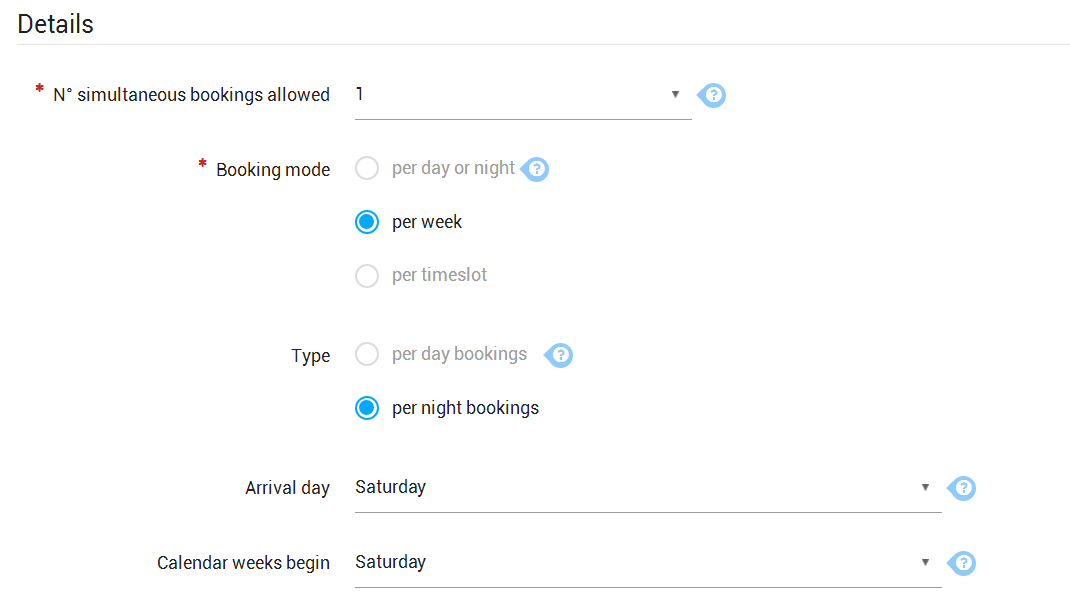 Booking mode and type: The mode and type of booking for this cottage as we said above is weekly, so we need to define certain settings to ensure that guests book weekly.
Pricing: This is to inform potential guests of the base price of the room. We will see how to define the special pricing periods in the following section. The base price of Hazelnut cottage is 250€ per week.

Add photos to your rental
Do not add photos directly in the appointment description field. Use the Photos tab. Add photos in your storage or upload them from your desktop. In the free version of the reservation module, you can add one photo. By subscribing to the BookingPRO offer, you can add an unlimited number of photos.
For more details, we invite you to go to the section of the guide dedicated to adding images to booking.
Vary your prices based on the season
The price of the cottage per week is 250 euros. Let's see how to vary this base price for high season and mid season. As defined in the scenario:
In the high season, the weekly price is 350 euros from June 1st to 30th and again September 1st to the 31st
In most demanded part of high season, to rent the cottage weekly is 400 euros from July 1st to August 31st
In Add-ons > Booking, click Edit Rental and then click Periods. Click Add a period. For each period, complete the following: A name (which will be displayed on the availability calendar for those making a reservation) A figure (in value or percentage) to increase or decrease the base price
Find out more about creating periods and special days to vary pricing by consulting this tutorial: define the periods.
Add paid extras to allow guests to add to their booking
At Hazelnut cottage, the owner of the premises offers its guests both free and paid extras. Guests can complete their reservation at the bottom of the booking form by adding bicycles or ensuring enough linen for each person (sheets + towels).
The price of the weekly rental of an adult bike is 10 euros (two bikes for 15 euros, 3 bikes for 20 euros and 6 bikes for 35 euros).
The price of the linen (cloth + towels) is 10 euros per person for the week.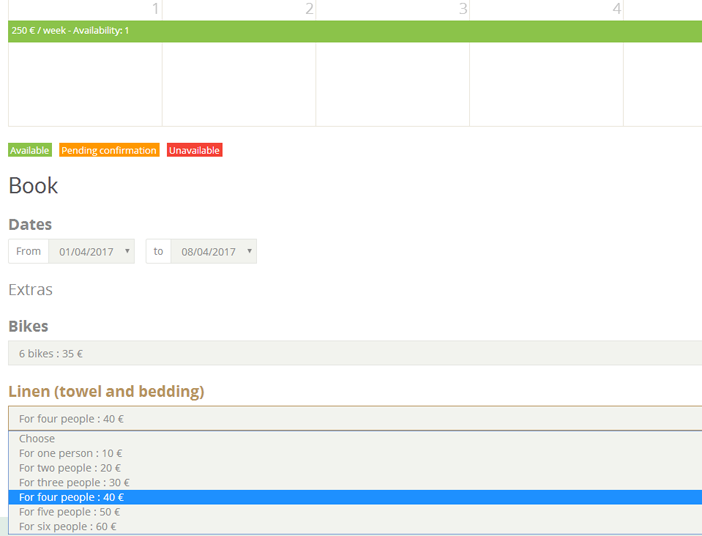 These extras can be free or paid, mandatory or optional. If you want to add extras to your lodging, we recommend reading the tutorial: add extras.
Set-up a down payment
As mentioned in our example, Hazelnut Cottage requires a down payment of 20% of the rental before validating your rental.
To create a down-payment go to Add-ons > Booking > Settings > Preferences, select deposit then enter 50%. To add the means of payment, go toAdd-ons > Booking > Settings > Payment types.
Hazelnut allows guests to pay by check or wire transfer.
Go even further with your website
To create a lodging site that sells and sparks interest, in addition to setting up your booking add-on, we advise you to use:
The blog add-on allows you to regularly post news on your region or on the animations around your home. The more your site will have content brought in regularly and the more likely you will be to attract visitors, that are potential customers.
The contact add-on allows you to put a personalized contact form on your site. Your customers can contact you easily and you can respond with all the key information in hand.
The page add-on allows you to create pages easily, by juxtaposing blocks of text, images or dynamic contents of your site (via widgets) and can be used to create more buzz about your lodgings.
Create a cottage or BnB website with online reservation
Wishing to create a cottage or BnB website that shows off your lodging with an online reservation system? We invite you to activate the booking add-on for free from your manager. If you only offer one rental type, you can use the booking add-on for free (no time limit). If you want to benefit from a complete tool, go further with the booking add-on (offer several types of rooms and payment online), we invite you to discover the offer BookingPro.