Understand emyspot
Understand emyspot
emyspot is an online CMS(site creation program) and we have terms that are unique to the emyspot CMS.
When starting out the terms can get muddled. What is the manager ? an add-on? A widget or a plugin ? Here are four definitions that are fundamental to getting started at emyspot.
The manager
The manager is the administration spot for your site. To create a site with emyspot, you do not download anything. A simple internet connection is all that is necessary. You connect to the manager by logging in with your username and your password (that you choose when you sign up). As soon as you save a change (like adding text, a page, a photo, a blog post..) it is automatically published and available online. No need to wait to publish.
You can manage your site from any device connected to the internet !
The add-ons
The best way to explain what an add-on is, is to give you examples:
The Page add-on is what you use to create pages.
The Photo Album add-on allows you to add and sort photos by category.
The Store add-on gives you a site perfect for e-commerce. You manage everything concerning your online store, like the product catalogue, configure delivery fees, keep track of clients, etc...
The Contact add-on makes creating personalized contact forms a cinch so that site visitors can get into contact with you.
All the add-ons
Your manager has over 10 add-ons that you can activate - for free - when you click on Add-ons > Manage the add-ons No installation is required !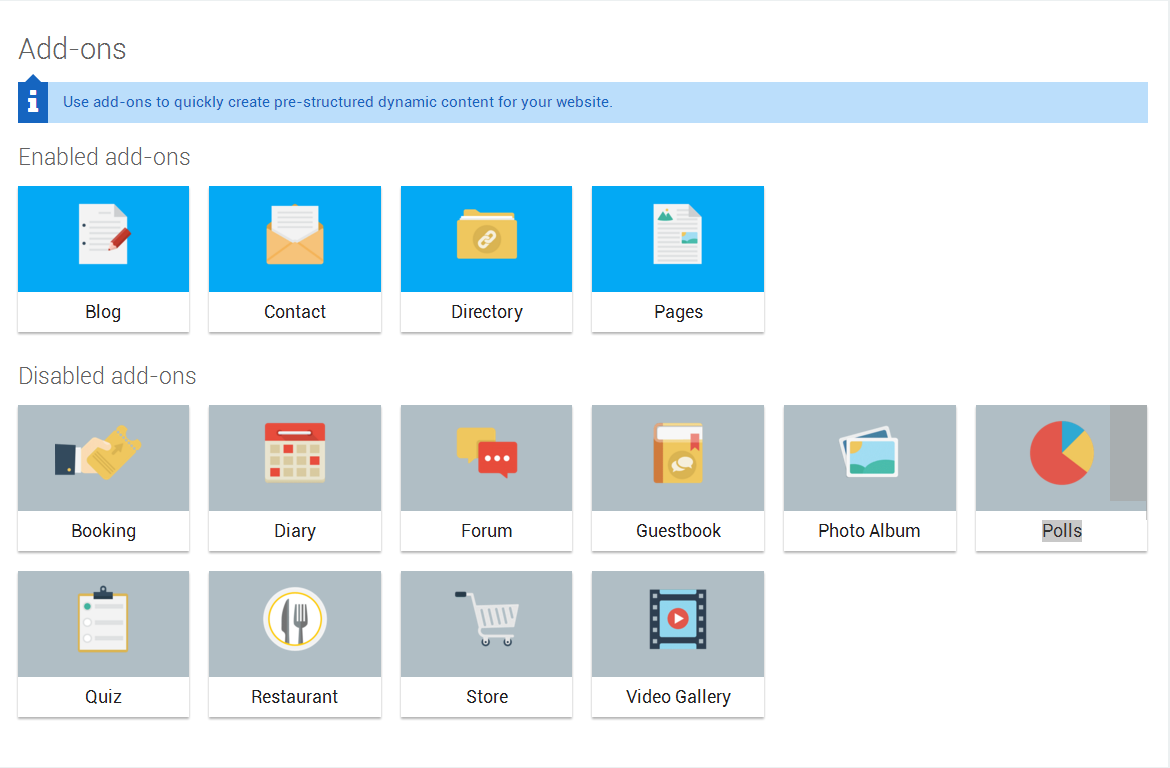 The widgets
A widget is a content block that displays within a page or a menu. The content of a widget is tied to a add-on or external content.
Some examples of widgets :
A widget tied to an add-on:
Thanks to the Blog widgets, you can display a list of the last posts published on your blog. The Blog add-on lets you create posts and articles, creating new content.
Thanks to the Video widgets, you could choose to display a list of the best-rated videos in a video. The Video add-on allows you to create video galleries.
Thanks to the Photo album widgets, display the last photos displayed on your site. The Photo add-on makes displaying photos in your site easy.
A widget tied to external content:
The Social Networking widgets connects your website to your Facebook page or Twitter.
The Current Weather widget connects your website to a reliable weather forecast.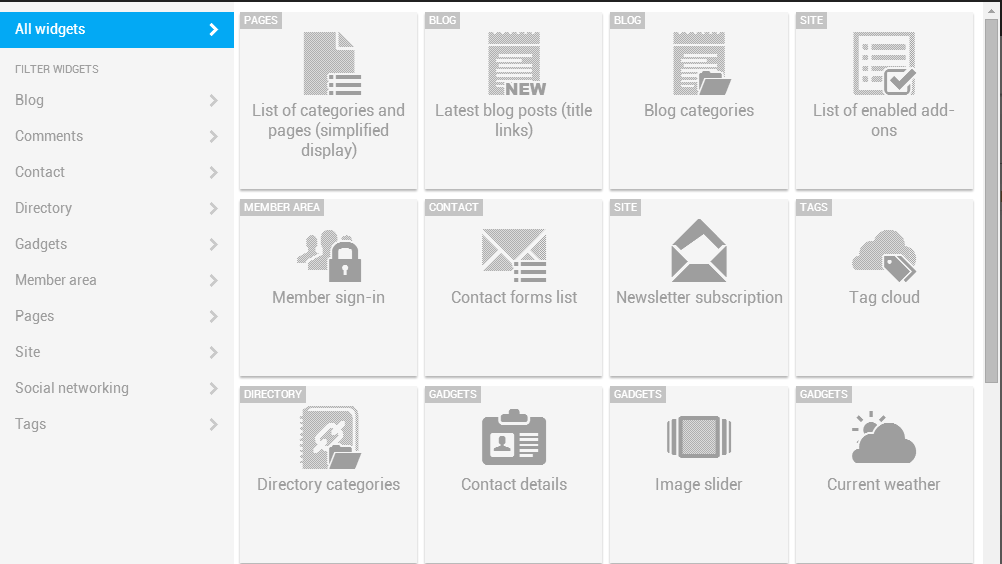 The plugins
A plugin is an extension that you have the option to activate on each item. These plugins interact on your website by applying different features.
Some examples of plugins?
You can get people commenting on you content and authorise comments item by item, reserve content to members only. or encourage people to share your content on social networks.

All the plugins
You can manage the plugins page by page, item by item, or post by post.
Site Design
The appearance of your site, the look, the design. To manage the design of your site, you choose a graphic theme which you then personalize. All of the design modifications and changes are done in one area of your manager. This is done using a clear form or if you are an advanced webmaster you can edit in CSS. The design is independant from the content. Any change in the design of your site will not affect the content.
We go further into site design in Section 5 of this guide.
Conclusion
To find out more about the terms we use at emyspot or involved with the creation of your website, we recommend that you consult the emyspot glossary. Discover together how to add content to a site in the next section.