How to generate profit from site submissions to your directory ?
When you create your online directory, it is possible to create a fee-based site submission service or to propose to feature a site in your directory. This tutorial shows you step by step how to configure your directory settings to monetize your directory submissions.
To benefit from this option a VersionPRO subscription is necessary. From there you can activate this feature as well as the member space, an integral part to this paid submission option.
Activate and configure paid site submissions
First you will need to activate this option. Log-in to your manager and go to Add-ons > Directory > Settings > Preferences and tick the box "Enabled" to start proposing paid site submissions
A form will then activate to help you define the offers you will propose to you members.
You will be able to define the offers when members want to submit new sites and/or when members want their site to be featured.
For example, you can propose three different offers with differing lengths of time of publication : 5 $ for 1 month, 9 $ pour two months, 12 $ for three months. You can also propose offers for featured sites over a certain period of time: the website will be featured during 1 month at 5$, during 2 months for 10$..
To add a new offer you need only to click on the big orange "+" .
If wanted, you can change the currency and add an intro text. As always, don't forget to save.
Define the payment process
Go to Add-ons > Directory > Settings > Payment types to apply an existing payment template by clicking on "new payment template". Select the template of your choice and then save.
If you have not yet created a payment template, we suggest you use this tutorial to help you configure the payment process.
How do the offers display on my site?
The offers only apply to members of your site, so when they want to access the offers they must be members of your site and complete the form. ?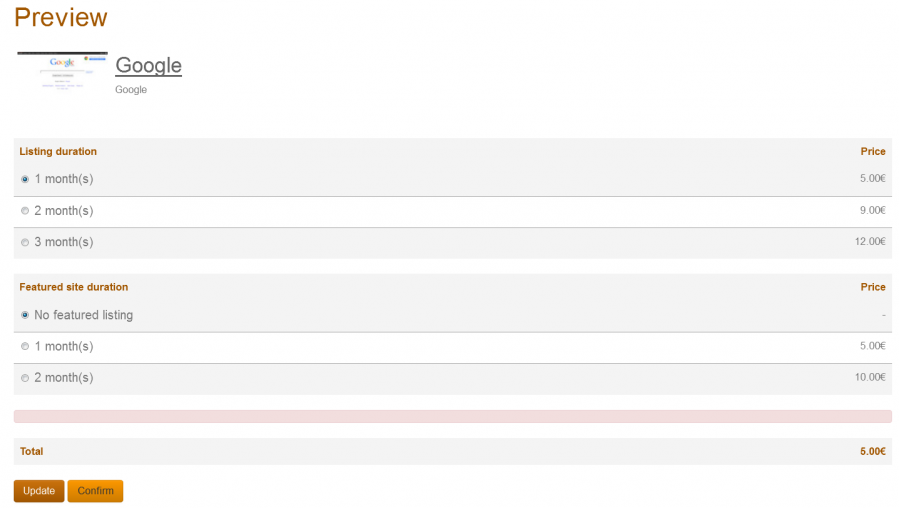 Manage your orders from one convenient place in the manager!
To consult, manage, and edit your orders, you will go to Add-ons > Drectory> Orders. From there you will be able to filter your orders by date, status, payment type, or member name. With easy management like this, paid submissions to your directory is made easy.