Write and manage your posts
Write and manage your posts
To have a well-structured enticing blog, it is necessary to organize it from the start. As you blog, each new post will increase the volume of content new post.
Let's discover how to publish a post, and organize your blog into categories, write better articles,and make your content clear and easy to navigate with tags.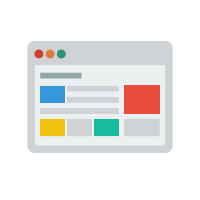 Write an article on the blog. Add a post.
Everything you need to know
Choose a title, select the one or more category you wish your post to be in, then choose the tags (we will talk about tags more below).
The same tools used to create dynamic web pages, articles can be written using the visual editor that allows you to visualize your text as it will be seen on the website with a text input box similar to Word. Unlike a page, you will notice that there are two editors, two blocks in the manager.
The first block, is what you want readers to see without clicking on read more. Some choose to use only this editor so that the entire post is viewed at once, without having to click on the title. Others are strong believers that this editor block should be used as an introduction (see the example below).
If you fill out the second visual editor (optional), a "read more" link will appear below the first block on your blog. Upon clicking on read more, you will access the rest of the blog post.
Create a post layout with blocks and columns
The second visual editor on the blog add-on allows you to format your article with clean blocks and columns. That functions the same as the page creation tool: wherein you can add up to 20 blocks and divide each into 6 columns.
To learn more about block formatting, watch how the block and column page builder makes postign dynamic content easy and organised :
Put your post online: Publish
You have the choice of when to publish blog posts before saving, you can save as a draft, publish instantly, or choose the precise moment by selecting scheduled as its status.

Published : as soon as you press save, the post in online
Draft : The content is saved in your manager but nothing is published on the website, this can be changed by editing the status.
Scheduled : If you wish to publish a post at specific date and time, you select scheduled and you can choose when to post. This will help you plan ahead so take advantage of this feature. You can also choose the date that your post will be expired. Rest assured, if you choose an expiration date, your post will no longer be displayed on your website but will still be accessible to you in your website manager.
If you have subscribed to VersionPLUS, you will have the advantage of being able to preview your post in page, and to authorize members (or groups) of member to submit blog posts. To set-up this option you will go to Add-ons > Blog > Options .
Search engine Optimize : Fill out this section to be seen in search engines
Each new post that you publish is another entrance point to your website for website visitors and search engines. Use the guide to better Search Engine Optimization to maximize your website's position in search engines and to gain a larger audience.
Each post has a title and unique content, as well as a unique URL address. In using the Search Engine Optimization feature included at the bottom of each post, you can increase your site's popularity and reach your target audience and blog reader. So be sure that each time you write an article you complete the SEO section :
Meta title : the title that will be displayed in search engines (the title in blue text on google)
A description : the little phrase or tagline that appears under the title (this should be less than 160 characters)
The illustration image: will appear on social networks if your post is shared.
Filling out these facts are important for your search engine optimization but also for sharing your posts on social networks. More info at keys to a successful blog.
Categories and tags: Organize your posts
As you blog and post, the content and articles will become longer. You will quickly find yourself with tens to hundreds of articles. Right from the start, you will want to organize your posts with categories and/or tags to make your blog stand out.
Blog categories
The categories sort posts by themes. You can create as many categories as you need, as you wish.
Example : You write a blog about automobile news. You can sort your posts into categories by vehicle type. Ex: economy cars, electric cars, sports cars etc etc.
Blog tags
The tags are keywords in the post. These words will create a link between similar articles and will cross reference your posts. Standard practice is to have two or three tags per article.
Example : On your automobile blog, you can tag your articles by car manufacturers, the tags link all articles, regardless of the category, that are tagged Bently, Mini, Jaguar, Rolls Royce, Land Rover, McLaren etc etc...