Set up booking at your hair sa
Book a haircut by timeslot
Thanks to our online booking system, you can create a professional website and offer your site visitors to book a time slot. The booking add-on is the ideal tool to propose appointments online or to reserve a time slot for a telephone exchange. Let's see an example applied to a hairdressing salon
The scenario
A hair above offers its customers to make an appointment directly on its website. The salon has 2 hairdressers present from 9h to 18h00. The average time granted to a client is 1 hour. The lounge is closed 15 days in summer, from 1st to 16th August.
Let's see together how to set up the booking add-on with timeslots.
Enable the booking add-on and pre-configure for appointments.
To activate the booking add-on go to Add-ons > Manage Add-ons. Choose the booking add-on and click enable. Choose the option appointments. Then click Add Appointment. Choose this option to pre-configure settings of the add-on to make appointments by time slot.
Set-up the appointment from the details options
In Add-ons > Bookings, select your appointment and then fill in the Details tab, add:
Add a description to fully present your appointment options. This text will appear on the site above the availability calendar.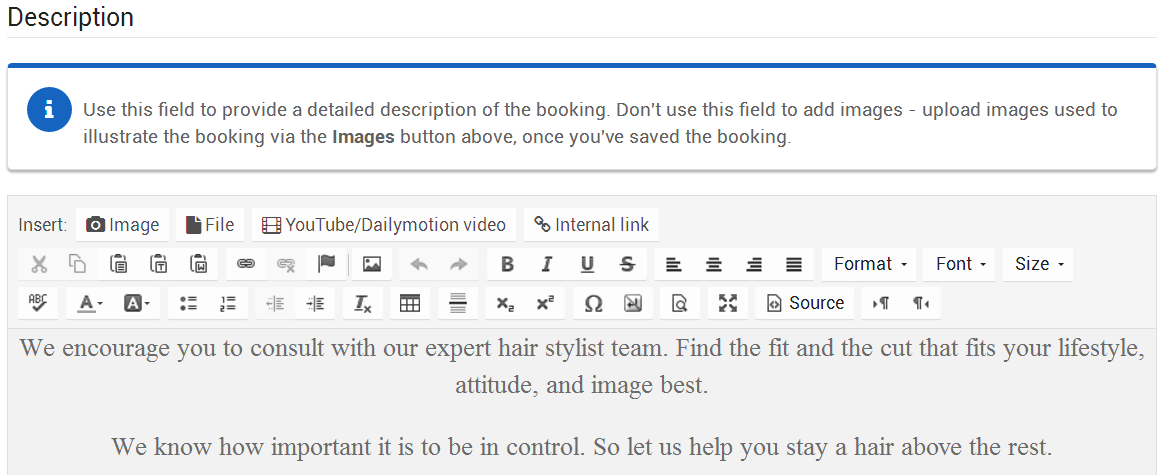 The number of simultaneous bookings. This is the number of times an appointment can be made at the same time. In our example, there are two hairdressers, so there may be two appointments in the same timeslot.
Maximum number of rentals per booking: this allows a customer to book multiple slots at once. If you allow a family to come with their 3 children, they can book multiple slots at one time. To do this, check the box.

The booking mode: Select by timeslot to divide the day into hour timeslots
Define the timeslots. This is where you must select days and hours of availability. Tick the opening days and for each, determine time slots. To define a period where you are closed you will need to define two opening slots. So, if you're closed from noon to 1 pm, indicate that you are open from 9 am to 12 pm and from 1 pm to 6 pm (it will not be possible to book between 12 pm and 1 pm).

The duration of a time slot: in our case, we determined that a hairdresser needed 1 hour per client
The price: online booking is free at A hair above.
Add photos
Do not add photos directly in the appointment description field. Use the Photos tab. Add photos in your storage or upload them from your desktop. In the free version of the reservation module, you can add one photo. By subscribing to the BookingPRO offer, you can add an unlimited number of photos.
Define the periods you will be closed
At A hair above our example hair salon is closed 15 days a year, from the 1st to the 16th of August. To set a close period, click the Periods tab and Add a period. Check the Closed Period box and enter the start and end date. This will make it impossible to book online during this period.
For more details about defining closing periods, we invite you to go to the section of the guide Define rental periods
Manage your appointments
Whenever a user books online, an alert will be sent by email. To validate an appointment, go to Add-ons > Booking > Bookings. You will find on this page of your manager the list of every booking, be it confirmed or awaiting validation, as well as an overview of your schedule on a calendar.
To ensure that your salon's schedule up to date, you must also add appointments received by phone or walk-ins. You can use the website manager to add a booking manually. To add a booking yourself, go to Add-ons > Booking > Bookings then click on Add a booking
Create a website with an online booking system
Want to create an online booking site? We invite you to activate the booking module for free from your manager. If you only offer one booking location, then you can use the add-on for free(forever). If you would like to benefit from a more complete tool and go further with the booking add-on, we invite you to discover the offer BookingPRO.
See the other case studies about the Booking Add-on
Here is an example of the booking add-on used to create a hotel booking system that requires down payment and price varying depending on booking period.

Follow along this case study to ensure that your professional website is set up to allow booking by appointments.

This case study shows you how to set up the booking add-on to encourage visitors to book your rental, add additional and options, and allow down payment online.