Agenda - a fresh look
The agenda add-on has a fresh new look : 2 new widgets, a fresh appearance on your site, and new features... Provide your site users an agenda that is worth it! Let's take a look at the areas we have retouched. You can now announce your events in an eye-catching way thanks to the updated agenda. So without further ado.
Our goal is two-fold : first to make syncing your agenda easy and make the download and transfer of events simple, second to have a superior display of events to get users participating.
We all know the frustration of planning an event and nobody showing up. The reasons are countless. People forgot to mark it on the agenda, they didn't read the details, they weren't sure who else was going, or it didn't look interesting to them, or worse they didn't even know it was happening!!
With the new agenda you can clearly communicate the details, get your events seen, and even know who will attend!
The new features
Better Visibility
We have updated the overall look of events so that benefit from a better display. The key player when creating your events visibility is to exploit the illustrative image. This image will appear in lists, links, and can communicate your events in a more concise matter.
Clear details
You now have the option to display a Google Map of where your event takes place. Giving your users the peace of mind of seeing exactly where the event - your users do not have to wander to find the event. Activate the localization map on your agenda.
Easy import / export
Now it is simple to import and export your events, sync up all your agendas using CSV format, gaining time when managing all your events ! Or propose for users to note your event in their agenda, clicking on the "add to iCalendar" to have all the key details added to their agenda.
Display Participation
No more wondering if people are going to show up to your events. The people who plan on going will be clearly displayed, this can encourage others to join your event and makes managing, planning, and organisation easier. Give your readers the option to participate.
Blocks page construction
With the extension of the blocks and columns system to the agenda, creating a page layout that displays your event to perfection becomes child's play ! Wanting to know about creating your agenda pages? We recommend you go to the helpful tutorial : Make a page using blocks and columns.
How to encourage visitors : Display your events
Adding a new event to your calendar does not necessarily mean that people will see the event, you will need to promote your events as well. The event widgets encourage visitors to see your events and can be put in your side menus. Use the new countdown widget that clearly let your users know how much longer until the event.
The agenda can now be arranged in a chronological order, no longer defined by date added but by the order of your choice. And people can see your archived events as well.
Don't worry the event page is still important: providing the details and upping participation is important as ever. The event page needs to spark interest, users can determine if they will participate or not (requires a VersionPLUS).
One click, and visitors can reserve a ticket, add the event to their agenda, or clearly find the location with the use of Google maps.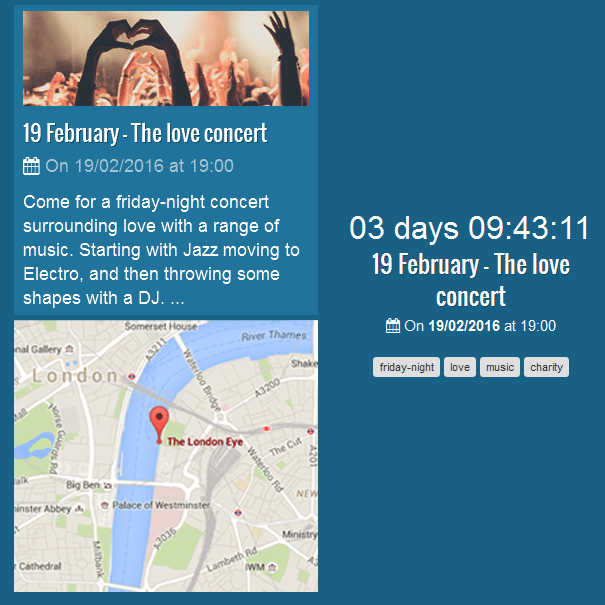 With all the changes we have made to the look and function of the agenda, I hope you get some great event planning done on your site. Love to hear your feedback bellow.
personalize buzz visibility sign-in communicate to users member space