Create revenue : Fee-based membership is here!
We teased you about this new feature in the article maximize your member space. Today the members space now has a new feature : it is now possible to propose a fee-based membership. This option gives our webmasters new marketing opportunities to make a profit on the web. Let's go through getting this set-up on your site and offer your members a privileged look at your content!
Within clicks you can setup your member zone to propose a paid subscription service to the member space on your site.
To use this feature, you will need the VersionPLUS which gives you the full array of options for the member space, and more. After, you will need to have activated your member space and the methods of payment on your website.
Meet in the manager, and go to Marketing > Site Members > Abonnements. As soon as your ready, follow the easy 1 2 3 below :
Make your group
As members sign up, they will choose their group or you(as the webmaster) can assign the members to a group. You can create as many groups as you want.
Create a subscription
You define the subscriptions. You can create specific offers or, you can, for example, propose different prices depending on the length of the subscription period.
Choose the content
Choose which group can access your content, by add-on or by item. To do this with the add-ons go to the options menu. To do this with pages go to the plug-ins.
Your fee-based subscription is online !
Site visitors can now sign-up for a paid subscription from the member space, after having made their member profile. After confirmed payment, they can immediately access the content reserved to the group.
Want an example ?
We created a working example on our Michelle Bird artist demosite, where you can subscribe to become a member with more privileges. Subscribe to get the bonus of the artist blog, get personalized swag, and special concert dates and sneak previews.
We created a subscription in which there are 3 offers available to those who subscribe to become a Backstage Member: 12 € for 3 months, 22 € for 6 months, or 44 € for 12 months.
Notice, we choose to propose reduced rates for longer periods to encourage members to subscribe long term.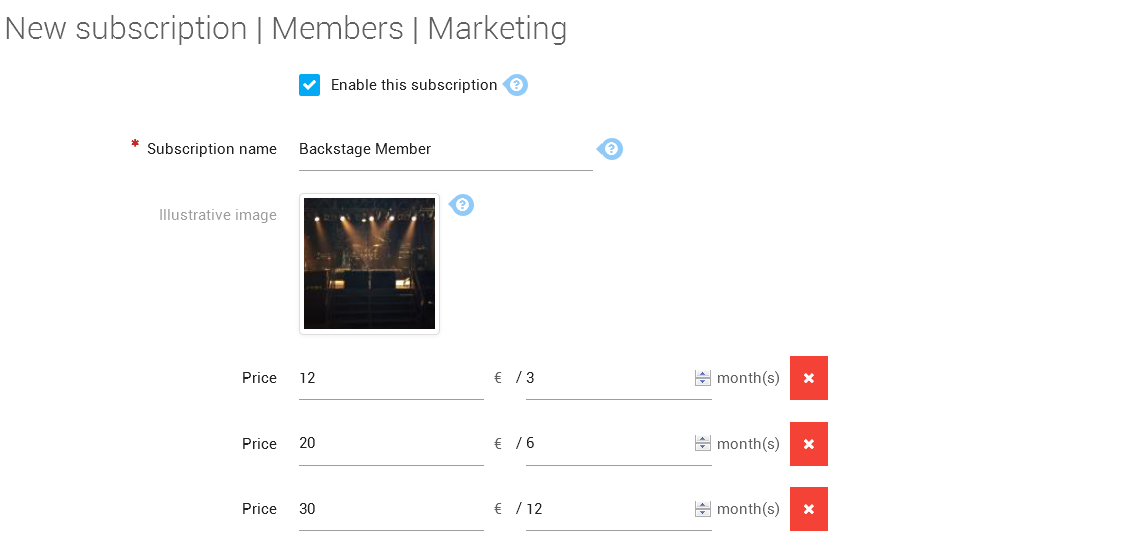 On the site, members can see the offers that have been made in User account > Subscriptions
To make the offer of membership more enticing, the sleek use of the illustrative image and the drop-down menu allows users to easily select the offer of their choice.
With this new feature, imagination is the only limit ! It is up to you to decide what exclusive content is available to your paying members: blog posts, new videos, or learning resources...
It you want to propose a fee-based membership to generate revenue, look no further. Go now to your site manager and get started. To find out more about the set-up procedure, we encourage you to read the following tutorial free of charge : Propose a fee-based member zone