Content strategy matters especially for the holidays!
As we talked about in our last article, the Christmas season is fast approaching and you need to prep your site now. Whether you want to pretend it isn't happening or deck out your online activities to celebrate the winter season, for marketers of any kind you will want to mention the holidays to be relevant, capitalize, and show some personality.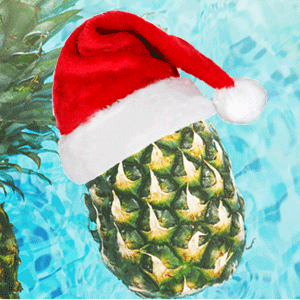 We now know how to tweak design to capitalize on the Christmas rush, but to maximize profits your holiday website content strategy is just as important. Content matters!
Plan your content strategy now, and take advantage of the trends of consumers to up your sales . Christmas is the busiest and most profitable time of year, especially for those who sell festive products or gifts. And no worries if you don't have festive products, studies find that just adding "Christmas packaging" can make people think of Christmas. Look at the photo to the left a pineapple in a Santa hat makes us think of the holidays
So get ready now, as typically holiday content needs to be ready at least two months before. While we all acknowledge that seeing Christmas stuff now might be shocking, the truth is that consumers start shopping in September.
Effective content strategy
A well-thought-out content strategy can conquer the holiday stress felt by your customers. The key factors you should focus on are clear delivery information, customer support, and guarantees. Online shoppers are scared of deliveries not arriving on time and are easily disappointed by delays.
Delivery:
- Clearly display delivery delays
- Display this information multiple times
- Reassure your customers
- Allow your customers to track purchased products
- Provide a customer support dedicated to deliveries.
Customer support
- Display how and when to contact you
- Create contact forms that guide consumers when asking a question
- Respond ASAP or display the standard response time
- Be ready for questions concerning returns and delivery
- Display clear easy to read legal notices
Guarantees
- include you guarantee information in the legal notices
- display often promises to consumers
- follow through on your promises
- display satisfied customer ratings with the easy to activate plug-ins
These factors could be the difference between customers shopping at your store or others.
Cater your content to customer trends.
Be aware of the trends of consumers. You can easily learn the patterns and trends of your consumers by using Google Trends or your past year's statistics. You want to know the periods that people buy your products, how they find your products(keywords), the competitor's prices and sales. This will help you position your store products in the online market and convert more shoppers.
According to the Ecommerce Holiday trends of 2015 reported by RJMetrics states that the days from Black Friday through Christmas pull in 50-100% more revenue compared to shopping days throughout the rest of the year. This will be an extremely important period and your content should reflect this rise in possibility. The holiday season brings in 30% more revenue than non-holiday months, so get ready to up your profits.
It is important to get your holiday content in place. An extremely important trend is discounts and holidays sales, 92% of shoppers will look for discounts online to find the best bargain. This can be reflected with free shipping on orders over a certain price, buy three get one free, or free gift wrapping. Your content strategy should reflect these trends. Set up reductions and sales on your store easily.
Perfect Your Keywords
Increase the chance of your site being found by potential customers by perfecting your keywords. Look at trends, competitors keywords, and what makes your product stand and use those words to your advantage. Have a search-focused content strategy that centers around your activities. Don't hesitate to use a combination of keywords, like phrases, this is called longtail keywords.
Put yourself in the shoes of the consumer and imagine using a search engine to find your site. What would you type? IF you know, take this list and perfect it. Google Trends is an excellent reference source to find keywords and maximize their use during the holiday season. Be sure to analyze your findings to maximize potential profits!
Target your audience for the holidays and into the new year
These two important moments, Christmas and the new year, should be a continuous content strategy towards excellence. I would like to take this moment to state clearly - ensure all Christmas references are gone by the new year. There is nothing more deterring than feeling stuck in a Winter Wonderland for the new year!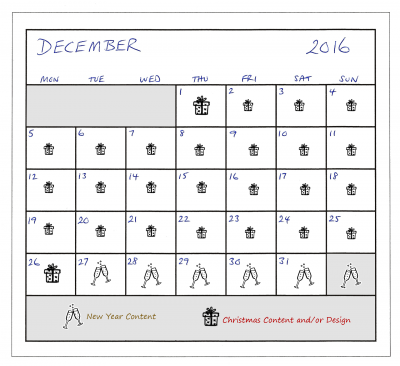 Focus on creating user loyalty and try to focus on all the niches of potential customers. Be sure you are including all the different possibilities when defining your target audience. Your audience could include those that received gift money, those who are searching for the after Christmas sales, those who have the capacity to plan a year ahead and make their purchases now, those who make New Year's Resolutions... Depending on your activities there are further conversion opportunities that you should target. Try to analyze last years data to take advantage of this part of the market and see what works well for your customers.
Reaching your audience at the right time.
Your content strategy should tap into the mindframe of your customers and keep them in a positive mindframe about your products and activities. The Christmas content strategy is focused more on product descriptions, special offers and posts about the best Christmas gift ideas. This content doesn't translate to the New Year well.
In the New Year people tend to search for motivational content. Think of how-to articles or about how a product makes life more manageable and is life affirming.While it is impossible to please everyone. This holiday season make your content as pleasing as possible to convert customers and up sales.