Google My Business: New options to optimize your Local SEO
Google My Business is Google's dedicated tool for the local positioning of businesses. You can use it to provide your customers with information about your business directly from Google and Maps or on Google+ via a description page.
As with all the services of the Californian brand, it is continuing to evolve. My Business has diversified and now offers new functions which can enhance your company's description page.
The changes offered to My Business Users include writing and editing an activity description and displaying a list of services.
Add a company description with Google My Business
Company descriptions will appear in the information panel (also called the Local Knowledge Graph) on the search results pages of Google and Google Maps. The description that you write will give the internet user more information and will enable them to choose between different establishments which appear on a similar search.
The text cannot exceed 750 characters and cannot contain a URL. The aim is not to send the user to a web page for more information. However, if you have a website, you can create a button that directs users there.
Company descriptions in Google My Business will not immediately be authenticated. They may have to be inspected. Google must ensure that the listing respects their requirements and mode of use.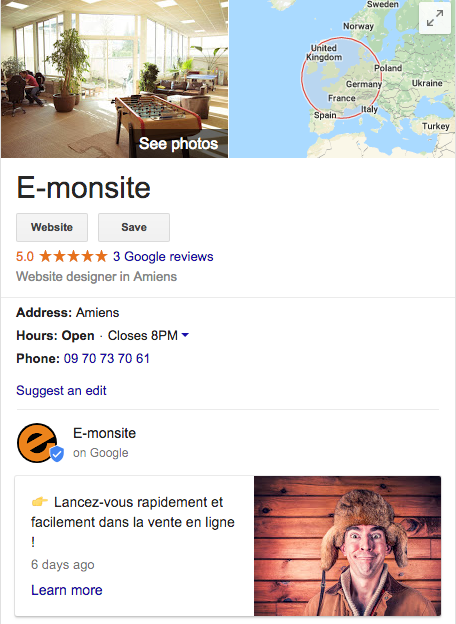 E-monsite's description page on My Business | Emyspot is published by E-monsite
Show the list of company services
Is your business a restaurant? As of this year, Google allows companies to display menus or lists of their services in the listings.
My Business is increasingly adapting to different types of companies. Everyone can have a My Business listing: plumbers, florists, medical practices, and any local service that wants to have greater visibility online...
To enjoy these new options, log into Google My Business, click on "Information" and edit the fields. As a result, a user seeking a specific local service will be pleased to find what they're looking for fast.
Do you have a local products or services business?
Complete your Google My Business listing to provide internet users with all the useful information associated with your company. Try to be as original as possible and stand out from the competition. Google My Business is essential if you want to have a good local SEO.
Check out the tutorial: How to sign up for Google My Business
SEO google marketing optimization visibility