The log-in widget - anywhere on your site
The very first step when using this widget is activating the members area. From within your site manager you go to Marketing > Site membersto edit or add your member zone. Here are some more recommendations for taking full advantage of your member space.
The question you want to hear
Where can I sign up?
With the member sign-in widget that can be integrated anywhere on your site, it is easy to sign-in and even better sign-up for those who are interested.
You should...

Assure easy access
There is nothing worse than a long sign-up process. We have all been accosted by the friendly smiler in a vest searching for signatures or money, and usually for really worthy causes. And yet the sign-up sign-up process is too long and complicated. This same sentiment applies to your website, if the sign-up process is hard to do, people have a harder time making the effort.
Your member zone should be easy to get to, take advantage of the menus and make navigation to you member space a click away - add helpful member widgets - for instance - the sign in widget(the star of the show). This can be added to your side menus, into a page, virtually anywhere.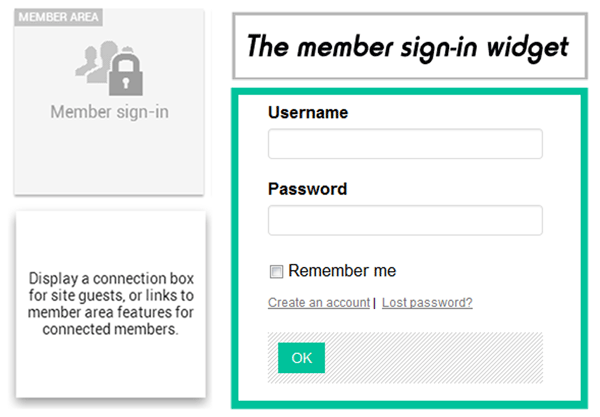 Know what members want
Create a forum, allow comments, activate chat, create a strong presence, spice up the member profile pages. Make sure you know and listen to what your members need and want. The adage - give them beer and they will come only goes so far.. eventually they may want wine!
Tip : Don't be afraid to reach out to the cancelled members and ask for some feedback, follow-up with them, and if you choose to offer them bonuses, discounts, and special access to you for coming back and giving you another shot.

Use Multiple Forms of Media
Just a page of hundreds of videos will not be enough to keep members coming back, unless they cat videos. Mix it up and show members that they are in content rich space that is worth their time - and more their money. Keep them coming back craving more.
Tip: Make text transcripts and audio versions of your content available or propose written articles to your members. People love variety. Personally, I love audio content, to listen while strolling or driving is a major bonus!
Set goals for members
With the new possibility to activate a fee-based member space, offer bonuses to your paying members. Reward your readers, members, and subscribers for their continued interest and interaction. Incentives are an excellent strategy for motivation.
Tip : A raffle for paying members. Offer consulting calls, access to products outside of your membership, physical versions of your content, or even be willing to purchase cool gadgets for them once they reach a full year. Incentive based marketing is a proven tactic!
But at the end of the day
Content, content, content. The content of your member zone is the most important part when creating value. The quality of your content will get people interested and invested.
Other helpful resources for the member space