Add a blog to your homepage
Add a blog to your homepage
Creating a blog is simple - this tutorial outlines the first steps you'll take when you make a blog.
Once you've enabled your blog, you can promote blog content right on the homepage of your website in two ways: either by adding blog posts to your existing homepage content or by replacing the content of your homepage with that of your blog homepage.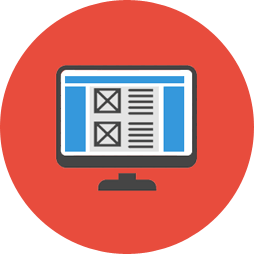 What's the difference between the two approaches?
1. Adding blog content to your existing homepage
Your current homepage will remain the first one most visitors will see when viewing your site, and you'll still edit its content from the Pages add-on.
To add blog content to the homepage, you'll use one of the Blog widgets. You can either add a list of links to your latest blog posts, a more complete list of posts that display post titles, text and image content, a list of blog categories or tags.
Like all widgets, you can add Blog widgets to any of your site pages: you don't have to limit yourself to your homepage.
2. Replace your homepage with your Blog
All content add-ons have their own index or home page. The default homepage of your website is the index page of the Pages add-on.
You can replace that page with the index page of any other content add-on, by changing the site settings, and choosing the new content add-on to be used for your site homepage. Choosing the Blog add-on as your site homepage will replace your current homepage.
Once you've chosen the new homepage add-on, the content of its index page will be displayed instead of your current site homepage, at your "root" site address.
1. Displaying blog content on your default site homepage
You'll use one of the Blog widgets to add blog content to your current homepage, in addition to its current content.
Begin by editing your site homepage from the Pages > Manage homepage menu of the site manager.
Add a new content block to your page.
Choose the Other widgets category, then the Blog widget category.
To add content from the blog, you can:
Display a list of links to your latest blog posts
If you only want to add a list of links to each of your latest blog posts, use the Latest blog posts (title links) widget.
All you need do is define the number of blog post titles to display on your page, and save the widget (and the page!).
Each blog post title will be added with a clickable link to the post's page on your website.
Use this widget to display a list of titles of blog posts; each one will have a link added to enable visitors to access the page where the blog post is published on your website.
Display a list of posts directly on the page
If you'd prefer to display the blog post content directly on your page, use the Latest blog posts (title links, image and text) widget instead.
Like the "links list" widget, you'll set the number of posts to be displayed on the page.
Posts displayed will be updated automatically on your page each time you post a new article on your blog.
Use this widget to display the content of blog posts (the title, and the content of the first blog post editor) on any site page.
Here's what the list of blog links widget will look like:
Here's what the list of blog links widget will look like:
Have you thought about your 2019 spring and summer vacation or your next family reunion? I bet you have, guess what? Your customers as well.

Travellers are hyperconnected and now more than ever they have access to a large and worldwide selection of many incredible places to stay. Whether your are providing rentals for business or leisure travellers, you must provide your futur guests with instant, quick and easy booking as your competitors do.
Therefore it's not easy to stand-out from the crowd.

How about a little help to improve your spring and summer rentals?
At emsypot we have been monitoring websites that perform best and have selected the most effective practices for you.

General Data Protection Regulation is a set of rules that applies to organisations in all EU member-states and has implications for businesses and individuals across Europe, and beyond.

Within the framework of the new general data protection regulations (GDPR), the emyspot team has made some important changes regarding the personal data of the entire emyspot community.
2. Replacing your current homepage with the blog homepage
The blog homepage automatically displays the content of each of the latest posts added to your blog. If your site is focused mainly (or solely) on blog content, you can replace the content of your site homepage with your blog.
Begin by heading to the Settings > Global settings menu of the site manager (1) and (2)
Choose the Homepage settings (3)
Select the Blog add-on and save your changes (4)
Once you choose a new content add-on as your homepage content, a shortcut to that add-on is displayed in the site manager menu bar, replacing the icon of the previous homepage add-on. The previous add-on is still enabled, and you can access its features and content from the Add-ons menu of the site manager.
To adjust settings of your new homepage, like adding an optional introductory text appearing at the top of the page, or defining the number of posts to be displayed on your homepage, head to the Options menu of the Blog add-on.
A few useful blog terms
If you're publishing your first blog, you'll need to get to familiarize yourself with a few terms:
A blog post: each article you publish is called a blog post, and you'll add content (articles) to your blog by "posting" (publishing) them in the site manager.
Publishing: like other site content, your blog posts can be saved as drafts, and published (added to your website) when you want people to view them online.
Display order: blog posts are added to the site as a list, in reverse chronological order. The newest ones are on top and the oldest at the bottom.
Tags: each blog post can have one or more keywords added to it, which identify the theme or topic of that blog post. These keywords are known as tags, and you can display the most-used tags on your website, as a way of enabling visitors to quickly display all the posts about a given theme, by clicking on the tag.
RSS feed: blog posts are also added to a "stream" of information, summarizing the post. This stream is updated automatically each time you publish a new blog post on your site. Visitors who subscribe to your blog RSS feed (using an "RSS feed reader") will be notified in real time each time you add a new post to your blog.
Your blog RSS feed is located using this address format: http://yourwebsite.emyspot.com/blog.rss
Scheduling publishing dates: blog posts can be published when you create them, saved as drafts to be published later, or you can program a publication date for a post. It will be saved as a draft and published automatically on the date you schedule for the post.